Although the manuscript in its entirety is not digitized, one cannot resist sharing this lovely image of St. Ephrem the Syrian (Effrem Diaconus) in a Latin manuscript of the Bibliothèque de l'Arsenal in Paris (which today forms part of the Bibliothèque nationale de France).
The manuscript (codex 233) originated in the Benedictine monastery of St. Albans (sic) in Hertfordshire, England, between 1170 and 1190. It is written in Protogothic miniscule, a Western script of the 12th century.*
As you can see from the image, the figure of St. Ephrem occupies a capital D, which forms the first letter of the incipit: Dolor me compellit dicere et iniquitas. This incipit, together with the title (Here begins the First Book of the Blessed Effrem the Deacon of the City of Edessa) are in green and red majuscules, before transitioning to the black miniscule of the remainder of the text.
The work presented here is the Sermo asceticus (ed. Phrantzolas 1:122-184). This is an influential sermon that circulated widely in Latin translation. It begins, "Pain compels me to speak, but my unworthiness urges me to keep silence." The writings of Ephrem take up folios 1r-50v. But because I have not been able to see the manuscript in its entirety, I am not sure whether all of these pages are devoted to the Sermo asceticus. The original sermon is rather long in the original (62 pages in the printed edition), and could certainly fill the fifty folios. Still, the desinit in the manuscript (given on the library's website) does not match the ending of the Sermo asceticus in Greek. In the original, the Sermo asceticus ends with a doxology: "…and glory to the all-holy Spirit who renews us, unto all the ages of ages. Amen." The Latin text, on the other hand, ends with the words, ut omnis anima que hic meditatur trahatur ad vitam eternam. Amen. This is a phrase that appears in another work, the De iudicio et compunctione, though even here it does not form the closing lines of the text.** Thus, without being able to examine the manuscript, it is not clear exactly what these fifty folios of St. Ephrem contain.
In addition to the Ephremic material which opens the codex, the manuscript also contains some sermons of St. Augustine and the Adversus Manichaeos (51r-146v). Indeed, if you did not know that the illumination in question was of St. Ephrem, you might very well think that the person in this image, pictured in Western garb with a Roman tonsure, was not St. Ephrem the Syrian but St. Augustine himself. May both saints, whether praying in Syriac, in Greek, or in Latin, grant us their blessing and their intercession.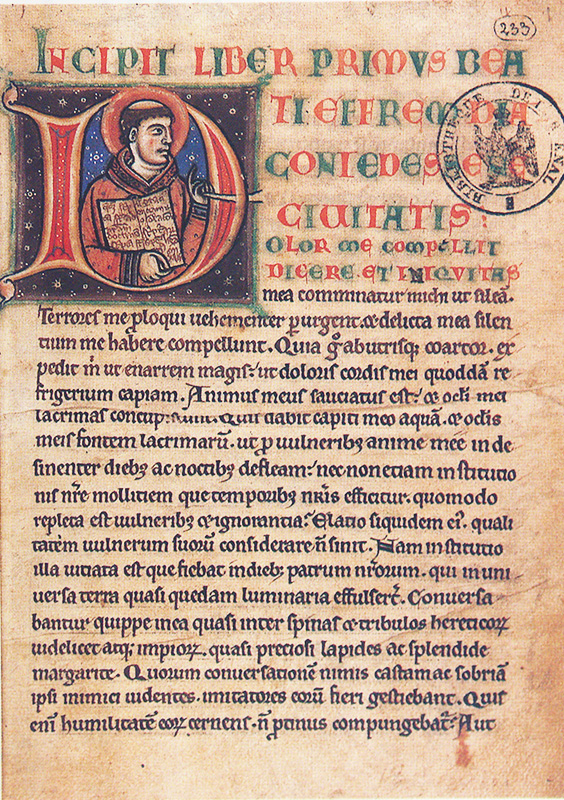 The images presented here have been borrowed, with gratitude, from the Index of Medieval Art.
---
* You can find more information on the manuscripts of St. Alban's in Rodney M. Thomson, Manuscripts from St. Albans Abbey, 1066-1235, (Suffolk, D.S. Brewer, 1982).
** ἵνα πᾶσα ψυχὴ μελῳδοῦσα αὐτά,γλυκανθεῖσα ἑλκυσθῇ εἰς ζωὴν αἰώνιον. Ἀμήν.